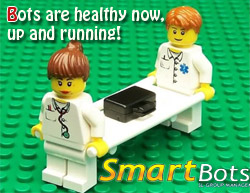 Some of our bots had serious problems today: 3 servers crashed after installing recent OS updates. Our tech guys together with provider's support were trying to fix the problem all the day.
The affected bots has been moved to a temporary server, and this was a reason why your bot was logging in and out. The servers are now up and operational, and your bots are residing back in their high-performance working sockets.
We are really sorry for inconvenience! All bots will get 48 hours of additional subscription to compensate the outage.  Hope this will help a bit, thank  you for understanding!
P.S. If your bot still acting in strange way, please open support ticket or IM Glaznah Gassner directly. We are fixing such issues immediately.