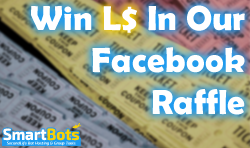 As SmartBots is now on Facebook, we've decided to give all of our customers a chance to win L$2000 each week!
Every Friday, we will be releasing a raffle post on our Facebook page, simply share the post and comment with a screenshot of your business using SmartBots and one winner will be randomly picked!
Read the raffle documentation at:
www.mysmartbots.com/docs/Facebook_Raffle
Visit our Facebook page:
www.fb.com/smartbots.sl
How To Enter:
Take a sceenshot of your company in-world with one of SmartBots devices visible (see here).
Visit our Facebook page and click the 'Like' button.
Find the most recent raffle post.
Share it and comment with your screenshot. We suggest to include your business SLURL, this works as a promo for you too.
Good luck!
Raffle Rules:
One winner is being picked each week on a Friday.
To be entered for the raffle, the comment must follow the guidelines.
The prize is being added to the winner's SmartBots Wallet.
If you have any questions, contact GTASkinCentral Resident in-world!