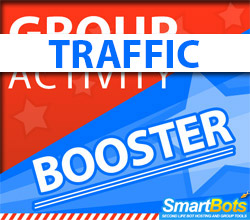 At SmartBots, we make tools that are supposed to boost things, but sometimes we realize that these tools boost other things, too!
That's what happened to our Group Activity BOOSTER (GAB): this tool has been developed to boost the group activity by attracting visitors to your land. However, it turned out that GAB is a perfect tool to boost the land traffic itself.
Thus, our latest update for the GAB might be very interesting for everyone – newcomers and regulars. Check the recent GAB Machine at SL Marketplace.
The difference
Before: you were sending a winner code to your own group to invite people to your parcel. Thus, you had to spam your own group.
Now: you can send codes to OUR group to invite people to YOUR parcel. Thus, you don't need to have a group with SmartBots at all.
How does it works?
How it works:
You get and rez the GAB device
Configure it to send winner codes in the official GAB group
Group members come to your land to push your traffic. Your own group chat will stay clean of messages (you even may not have any groups at all).
Get the device and try it now! If you're not an user of the Group Activity BOOSTER yet but interested to push your land traffic with such device, follow this link for more informations.