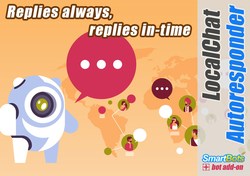 Continuing our efforts to automate your SL business, we release a new LocalChat AutoResponder bot add-on.
This is an exciting and highly anticipated tool!
Features
Respond with a text to match local chat messages.
Send group invitation and/or inventory offers.
Respond to several messages at once.
A handy auto-replies editor.
Local Chat Autoresponder allows you to create rules with trigger messages to which your bot will automatically reply to: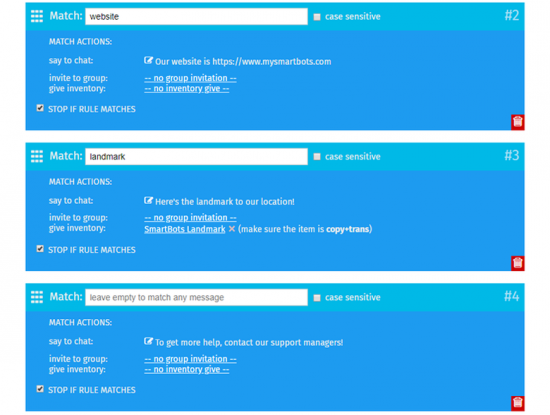 Once the keyword is typed into local, the bot will reply with your rule straight away.
To know about rules and see the examples, visit LocalChat Autoresponder docs.
This new feature is a great way to let your bot handle the most common questions and offer simple support, including welcoming guests, answering questions and sending group invites and items.
Useful hints
Use multiple match words, separated by a comma ("hi, hello, hey")
If you leave Match message blank, that rule will react on any message.
There is no limit on how many rules you can create.
The rules on top take priority over the one on the bottom.
If you are using give inventory feature, make sure the object has copy + transfer permissions.
To purchase the LocalChat Autoresponder, visit add-on store page.
Use coupon LCLCHTISAWSM to get a 30% discount! (The discount offer is valid for two weeks)
For more information and questions contact our Support Staff!